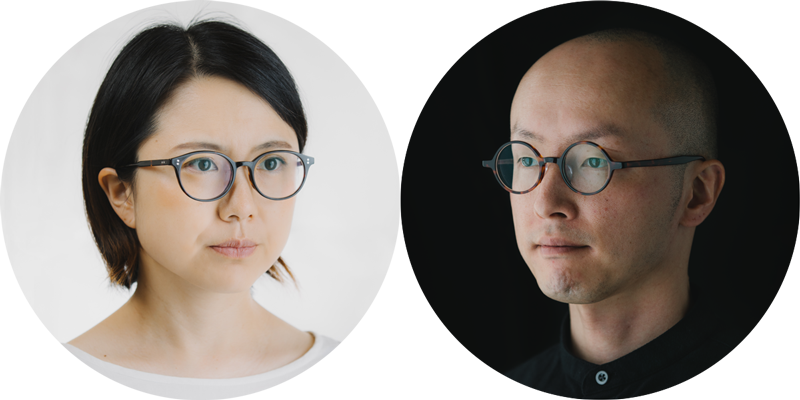 千夏、1988年福岡県生まれ。一夫、1983年山形県生まれ。
ともに日本写真映像専門学校フォトファイン学科卒業。
2016年よりChika & Ichio Usuiとして作品の共同制作を開始。
千夏は2019年、台湾で開催されたWonderFotoDay(台北国際撮影芸術交流祭)に招待作家として作品を展示。
一夫は2015年、個展「きせき、」(Wide Gallery&Studio、神戸)開催。その他、国内外での受賞歴多数。
現在は関西を中心に活動している。
2019年、KYOTOGRAPHIE (京都国際写真祭) KG+SELECT 12 Artistsに選出をされ個展を開催。
その後、KG+SELECT 12 Artists及びKG+の全200組を超える出展アーティストの中から選ばれBergonzo First Floor Paris Prizeを受賞する。
2019年11月には招聘をされフランス・パリのギャラリーにて個展を開催した。
2020年にニューヨークの出版社AVGIより初写真集を刊行。
Chika, born in 1988 in Fukuoka, Japan. Ichio, born in 1983 in Yamagata, Japan.
They graduated from Japan Institute of Photography and Film.

They have worked together as "Chika & Ichio Usui" since 2016.
Chika exhibited at WonderFotoDay in Taiwan as an invited artist, in 2019.
Ichio's major solo exhibition, "Kiseki," (Wide Gallery&Studio, Kobe). In addition, he has a lot of experiences and won prizes in international contests.

They are based in Kansai, Japan.
In 2019, they were included in the KG+ "Select 12 Artists" category, and held a solo exhibition in Kyoto during the 2019 KYOTOGRAPHIE [Kyoto International Photography Festival].
Afterwards, they were selected to receive the Bergonzo First Floor Paris Prize, from more than 200 participating artists included in the KG+ "Select 12 Artists" category, as well as the entire KG+ exhibition. In November 2019, they held a solo exhibition in the Saint-Germain-des-Prés district in Paris, France.
In 2020, they published their first photo book by AVGI in New York.

– Awards –
2019 KYOTOGRAPHIE
└ Bergonzo First Floor Paris Prize : "運命共同体 – Communities bound together by a common destiny -"
└ KG+SELECT 12 Artists

– Group Exhibition & Art Fair –
2020 "100人10 Extra exhibition GINZA" (Shinwa Art Museum, Tokyo)
2020 "100人10" (Tokyo)
2019 "KG+ IN TOKYO" (Art-U room, Tokyo)
2019 "fotofever" (Carrousel du Louvre, Paris)

– Solo Exhibitions –
2019 "Communities bound together by a common destiny" (Bergonzo First Floor Gallery, Paris)
2019 "運命共同体 – Communities bound together by a common destiny -" (KYOTOGRAPHIE KG+SELECT, Kyoto)

– Publication –
2020 "運命共同体 – Communities bound together by a common destiny -" (AVGI, New York)